Not too long ago we got a call from a returning customer who had just torn up the old carpet in their living room and they replaced it with hardwood. This seemed to have a domino effect, because soon they had bought new furniture and now wanted to replace their drapes. They needed our help selecting new fabrics and styles for their living room, and we were glad to help them with their custom drapery in Morgan Hill.
Our designer met with the customer at their home to go over styles and fabrics for their new updated living room. Our designer went over different styles and fabrics that would look great in the space, but would also make the room look bigger too. The customer selected the fabric that she wanted along with the style, we measured the window, and then our designer let the customer know that as soon as the drapes were made that we would return to install them.
The custom drapes in Morgan Hill was scheduled to be installed.
A couple of our professional installers along with our designer arrived back at the Morgan Hill home to install their custom drapes. Our installers removed the old drapes, then the installed a new drapery pole that would match the décor and design of the living room, and then they began hanging the drapes for the customer. Our installers had the new customized drapes installed within an hour and they looked fantastic!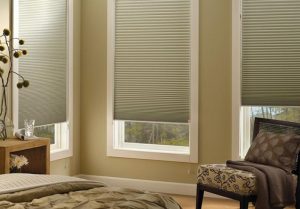 Our designer let the homeowner know that the drapers were lined, which would keep the cold air out during the winter months and keep the hot air from coming indoors during the summer months. The customized drapes really put the final touch to the living room makeover. The texture, color, and style is just what was needed for the living room. We could tell that the homeowner was very happy as she was smiling from ear to ear, then she was taking pictures of the drapes and posting them on all of her social media pages.
Our installers began cleaning up by removing the old drapes and curtain rods from the home as the customer didn't want them anymore. Our entire team makes it a point to always leave a customer's home better looking than when we arrive. Our team let the customer know that if she needed anything else to just give us a call and we would return and the customer let us know that we would be hearing from her in the near future, because now she plans on redoing the bedroom too. We go out of our way to make sure each and every customer is happy with all of our services, which is why we are the company to call from all custom drapes in Morgan Hill.