We got a call from a returning customer who wanted a makeover for their living room. They had just bought new furniture, including a matching sofa and chair that really clashed with the curtains they currently had. We helped them pick out a fabric and design for their new drapes in Sunnyvale, and then replaced the old ones. They were thrilled with how new their space felt!
The custom drapery installation was underway
Our design experts arrived at the home in Sunnyvale to go over the space, see the new furniture, and provide fabric options and solutions for the customer. The customer was pleased to see our design experts and the customer showed them to the living room and the new furniture that she had purchased.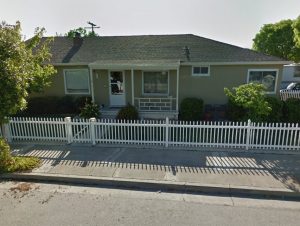 Our design experts evaluated the style of the new furniture, then showed the customer many different fabric options that would look great in the space. Our design experts tried to let the customer visualize how the custom drapes would look in the space with the different fabric choices. The goal is to add style to the space with the custom drapes and not to clash with the furniture and décor that the homeowner was trying to have.
The customer selected the fabric that would go great with the space, then our designers measured the windows so the drapes would be made precisely. Once the windows were measured our designers let the customer know that they could return within a week when the drapes would be custom made for her and we would install the drapes for her. The customer scheduled a time for us to return.
The following week the drapes were custom made and our designers returned to the home for the installation. When we arrived the customer was pleased to see us. Our team went to work installing the drapes and within an hour all of the drapes were installed and they looked beautiful in the living room space. The drapes actually enhanced the space and they didn't take away from the new sofa and matching chair. Once the drapes were installed it looked like the customer had actually purchased the drapes and living room furniture at the same time because they looked so great together.
Our designers recommended several décor pieces that would accent the space and bring everything together, as the homeowner hadn't purchased any accent pieces for the space yet. After our team left the Sunnyvale home, our team knew that they did another great job for the returning customer just by seeing the smile on her face. Our designers and team know that we are the number one custom drapery providers in Sunnyvale, which is why all the homeowners contact us.