We got a call from a homeowner that was looking to make some simple improvements to their home without spending a lot of money and time on major renovations. They had new windows installed, but the only thing covering them at the moment were old cloth curtains that didn't match their home décor at all. They were looking for a window treatment store in Saratoga that had a good selection. We scheduled a complimentary consultation with the homeowner and she happily agreed.
Our professional designers arrived at the Saratoga residence to provide some advice and suggestions for the homeowner. She showed our designers the new windows and space. We went over different fabrics and window treatment options with the homeowner. We selected a custom fabric for their new curtains, and suggested some other features that worked beautifully with their interior décor. The homeowner was thrilled with the custom fabric and wanted to know when we could have them installed. We measured the windows and let the homeowner know that we could have them installed in just a few days, which was great news to her.
The custom drapery installation was underway
Once the custom drapery was finished we called the customer to see when a good time would be for us to come back to her home and install the drapes. The customer wanted us to come out the following morning. Our expert installers and designers arrived promptly on time. Our installers removed the homeowners current curtains, then began installing the custom drapes. As they were being installed the homeowner said they look beautiful. Within an hour the window treatments were hung, then our designers went to work making sure that they were hanging properly. Then we began adding a few other features and items that were selected by the customer at the consultation.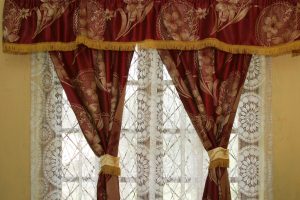 Once the designers put their personal professional touch to the space and everything was done, the homeowner was speechless. The homeowner said, "I can't believe this is the same room!" She continued to say that the space was absolutely beautiful. The homeowner was amazed by the transformation of the space with such a simple change. She told us that her husband would be thrilled with the outcome, especially because they hadn't exceeded the budget of their previous renovation.
The customer thanked the designers and the installers for doing a fantastic job and she said she would be calling us really soon, because now she wanted to have her formal dining room to have custom drapery too. We were happy to have made another customer happy.