Designs for drapes and curtains evolved over time, becoming more complex and using a variety of patterns and materials sourced from abroad. However, the fabric rationing during the World Wars saw drapes becoming simpler. It also brought shutters back into the limelight, which by then had been relegated to mostly plantations in the south.
What Are Interior Shutters?
Let's take a look at the history of shutters. Window shutters trace back to ancient Greece, when fixed louvers of marble were put together to regulate light, air and heat indoors. Solid shutters were preferred in colder regions, as they helped keep the indoor area warm.
For a thousand or more years, stone louvers and solid shutters became popular all over the Mediterranean. In medieval Europe, people started experimenting with wooden and movable louvers to regulate light and air.
The Spanish, who colonized the Americas, popularized movable, wooden, louvered shutters all over the region. Plantations in southern US adopted them en masse, as they made it easy for plantation owners to monitor workers from inside their homes.
Gradually, as homes began to be constructed from wood, walls started becoming thinner. External shutters became popular, as they could be easily accessed from inside the house, and keep out the rainwater at the same time.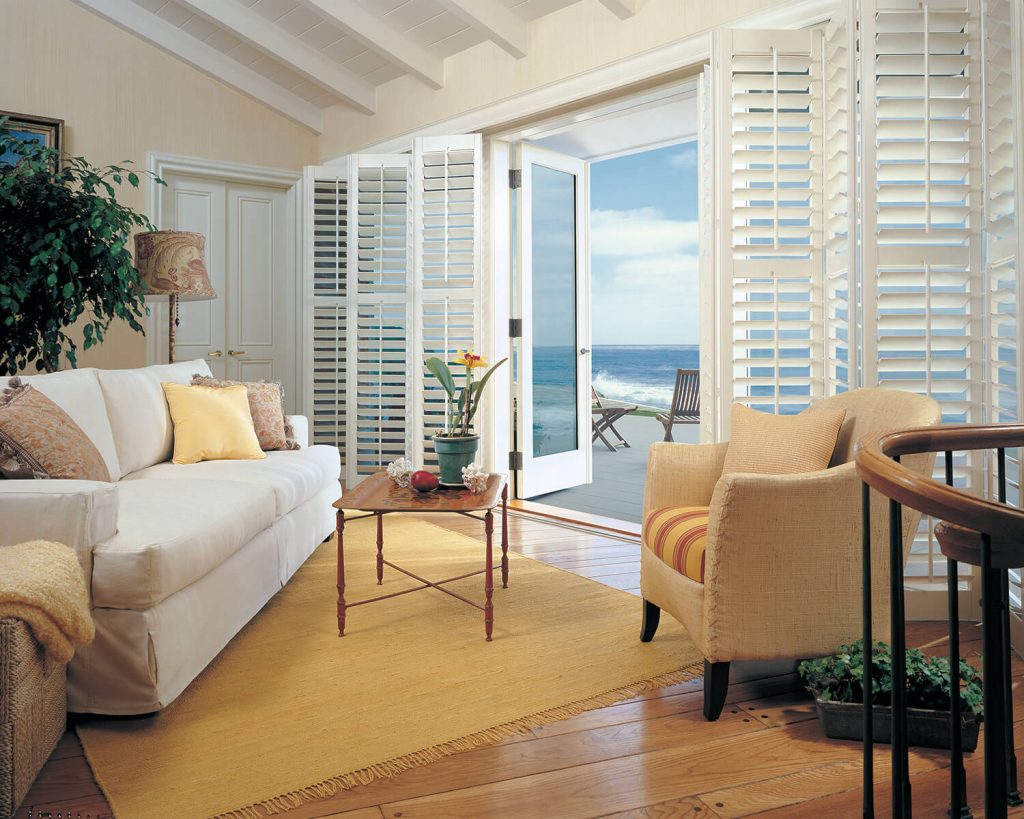 Types of Interior Shutters
Various types of interior shutters derive from the following factors:
Shape: Shutters modify the width and spacing of louvers and derive names when they fit windows that could be circular, triangular, oval-shaped, square or rectangular.
Size: While a single panel of shutters is adequate for smaller windows, bi-fold or trifold shutters are required for larger windows; each panel of the latter is attached to another using hinges.
Utility: Custom-made shutters are designed for French windows and extra large windows: they may consist of multiple panels with wheels fixed to their edges and gliding on tracks.
Humidity: Wooden shutters for bathrooms get exposed to steam and water and would warp. To overcome this problem, designers started experimenting with composites.
Material: Decay resistance is the preference factor of underwood, teak, mahagony and cedar, while low cost is that of synthetic and composite materials.
Finish: Synthetic shutters come in different colors with matte or glossy finish.Wooden shutters are given various finishes using oils, lacquers and staining.
Tips on Getting Shutters Right
Cost: Shutters made of wood or bamboo are costlier, while those made of composites are available in the mid-range.
Style: Depending on the look or ambience you want to achieve, you can use interior shutters, west coast plantation type, cottage style and regular plantation style shutters.
Materials: Lighter materials like vinyl and aluminium are preferable for large windows, and for smaller ones, you can experiment with wood or fibreboard.
Shutters serve a simple function; however, they come in a wide range of colors, designs, materials and costs. A professional decor company will spend time with you to understand your needs and recommend the most suitable option for you.
Looking for a Free Estimate for Interior Shutters?
At the Yardstick we specialize in custom interior shutters, and we can help bring your interior shutter vision to life! If you need help choosing the right shutters, or have questions about what would even be a good option for your home we'd be glad to help you out!
Connect with us to discuss what you are looking for with your interior shutters.
You can also get inspired by checking out some of our previous interior shutter projects in our Shutters Gallery.