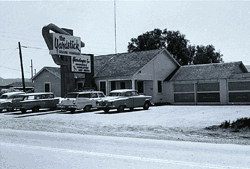 Ruth and Bernard Alter, with their three children moved to San Jose from Chicago in 1957. San Jose only had a population of around 50,000 and the Santa Clara County was still primarily orchards. The 1960's were a time of great growth and The Yardstick was started as a fabric store for all the home sewers. This was before Walmart, Before Ross and other stores of that ilk. It was still less expensive for women to sew their clothes than to buy in stores.
As the town grew and houses were being built, it became apparent that there was a need for custom draperies to cover all the windows. The Yardstick added custom draperies sometime in the early 1960's and the rest is history. Our landmark store in Campbell serviced the needs of Santa Clara County as the area matured.
Jack Alter, their youngest son, worked in the business as a kid and went in with his parents in 1979 after completing college. They worked together until Mr. Alter senior passed in 1996.
As people's shopping patterns changed, The Yardstick slowly ended the fabric store part of their business and went 100% into custom draperies, re-upholstery and blinds.
Jack has been running the store and prides himself with his knowledge of the business and his ability to provide the modern customer with the services that his customers' need.
We look forward to continuing long into the future and, hopefully, to the next generation.