Roman Shades, Roll-Up Shades, & Sliding Panel Shade Systems
CONRAD is a company offering top-notch window shades for businesses and homes.

Their fabric options are all naturally sourced from the best materials available, and the gorgeous colors are a perfect complement to any room. In addition to their beautiful natural fibers, they also offer other materials like natural flax, arrowroot, ramie, palm, abaca, and much more.
CONRAD shades offers many window shades like:
Examples of CONRAD Shades Materials
Benefits & Features
Can be installed on any window
Full line of handwoven window treatments featuring natural fibers
Four original collections to choose from including Grandeur, Legacy, Classic, & Designerline
Gorgeous colors & weaves will complement any redecorating theme, existing decor, or furniture
Motorized roll-up shades ideal for sliding glass doors & large window expanses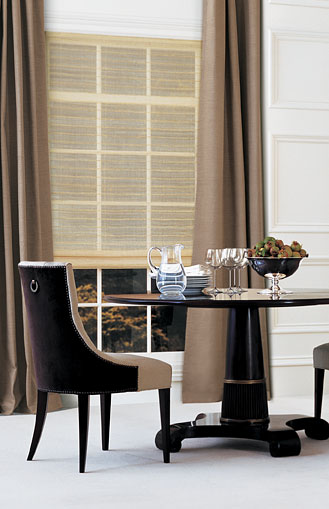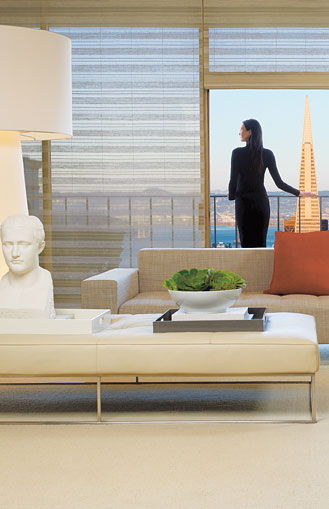 CONRAD's History of Elegance & Craftmanship
Edie Conrad started her legendary business over half a century ago when she began importing 'biri-weaves' from Norway. Edie looked to the natural world for inspiration, creating handwoven natural fiber shades and other products from the diversity and beauty of nature. In terms of window shades, there is no comparison with a Conrad original product. The craftmanship, detailing, and hours of handwork in the art can only be seen in the extraordinary beauty of a finished product. Conrad continues to provide elegant, hand-crafted sunshades with an emphasis on using sustainable natural fibers.
CONRAD Shades Offers A Wide Range of Window Shades
CONRAD is one of the best window shade companies in the world. They have a large range of shades with some of the best natural fabrics to choose from to match any interior in your home or office. Here's a few ideas to inspire your next window shades from CONRAD.
Interested in CONRAD Shades for your Next Redecorating or Remodeling Project?
The Yardstick would be more than happy to help you choose and install the perfect window coverings for your home or office. We proudly serve homeowners and businesses in the greater San Jose area with custom shutters, drapes, blinds, and more. You can learn more about us and how we can serve you with all your custom window treatment needs!