If you're tired of wrestling with cords or cables for your blinds or shades, then we have the solution you've been looking for! Just imagine being able to push a button, speak a voice command, or push a button on your smart device and watch your shades or blinds open or close. You now have control of your privacy and light levels at the push of a button or a simple voice command. We highly recommend checking out some of our motorized window treatment options.
When you install motorized shades or blinds, you'll be able to experience the effortless comfort and control of a high-quality addition to your home or business. They are the best window coverings to help every day feel more convenient and give you a connected and sophisticated experience. Welcome to the future of automated window coverings.
Our Motorized Window Treatments Give You the Convenience You're Looking For
Stop manually adjusting your heavy or hard-to-reach blinds or shades. With our new high-tech window coverings, you can easily open or close your window coverings using a timer, your voice, or even your smart device. If you want the added privacy, ease of use, safety, and convenience of using high-quality motorized window treatments, then you're in luck! We have the options available to make sure you get exactly what you need to fit your home or business.
What are the main benefits of motorized window coverings?
With motorized window coverings you receive:
Dependable control of the RTS (radio frequency) motor that's included with your order of motorized window coverings.
Energy savings by raising and lowering window coverings at particular times.
Seamless compatibility with your choice of remotes, wireless switches, timers, home automation systems, or even switch controls.
Adaptable customization to match your colors, decor, and power requirements so you can enhance your home or business.
Efficient operation with the motorization drapery track giving you ease of automatic and seamless operation with hard-wired or battery power.
Flexibility to meet your specific needs with quiet operation, types of fabrics, and various forms of control.
Why Would You Want to Install Motorization Products?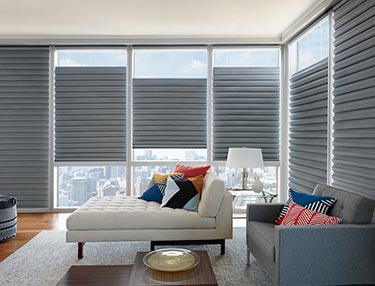 Source
Instead of climbing hard-to-reach windows, dealing with long cables or cords, why not have the added convenience of automated blinds or shades at the push of a button? Motorized window coverings are able to interface with most smart devices and smart homes giving you the ability to open or close them on a timer or at the push of a button. You can even control them with your voice, mobile device, or a remote control.
You can hard-wire them into the electrical system of the home, power them through batteries, or even charge them through solar panels. From automated opening at first light of the day to closing at sunset, you'll never want to go back to the manual way of opening and closing shades again. Whatever your vision for automated or motorized window coverings, we can most likely bring it into reality.
What high-quality companies do we work with to offer the best products to you?
Somfy (Offering interface capabilities with Somfy MyLink turning your mobile device into a control device)
Somfy Glydea (Offering motorization capabilities for almost any type of fabric you want to use)
Rollease
Lutron
Hunter Douglas
& Many More!
What kind of motorization or automation power options are available to me?
Battery Remote Control or Wand
Solar Powered
Hard Wired for 110 or 24 volts
Mobile Device
What Happens When You Schedule an Installation for Motorized Window Treatments?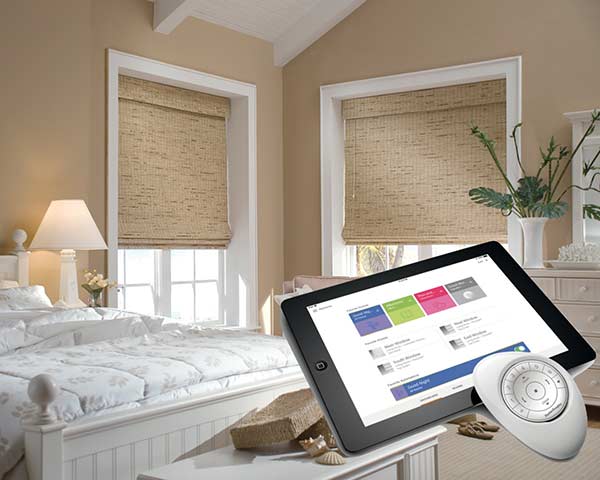 Source
When you request a free in-home estimate on our contact page, one of our professional team members will reach out right away to coordinate a visit time that is best for you. During the visit, they will take precise measurements and provide an estimated price for your new motorized blinds or motorized shades. If you decide to move forward with the installation, our professional installers will begin the process of sourcing and preparing the high-quality materials they will need. They will then schedule a time around your schedule for the installation to ensure an exact fit of the new motorized window products, and, if required, remove any previously installed window coverings. We take pride in serving people to the best of our ability and treating every installation location as if it were our own.
The Yardstick Is Ready to Help You Choose the Right Motorized Window Treatments
At The Yardstick, we offer many services including our high-quality motorized window treatments for blinds, roller shades, roman shades and draperies. We can help you create something amazing while meeting any requirements on style or budget. We can provide samples, examples of previous projects, and anything else you may need to help this process be as seamless as possible. We want to make sure you get what's best for your home or business. We look forward to connecting with you and helping you get the motorized window treatments you're looking for.