Custom draperies allow your architecture and decor to really shine while also giving you the ability to control lighting, sound and temperature in a room. They offer a great way to highlight natural light or block it entirely, and they also can keep rooms warmer or cooler by adjusting the drapes to your ideal preferences. Drapes also add customized texture and color to your room that really displays a look of luxury and opulence. And, not to mention that draperies also help to control lighting, provide added insulation, and add sound abatement. Along with custom drapery, custom curtains are another option that we provide that is very similar to drapery.
What Types of Custom Drapery & Custom Curtains Do We Install?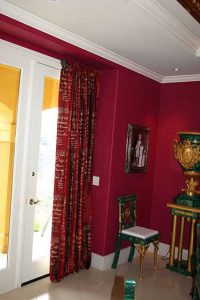 We can create drapes or curtains in almost any material you desire to match the look and feel of a room. Our custom draperies are Hand-made in our local factory and can be crafted from luxury fabrics in almost any style and can match almost any decor. From formal dining rooms and custom kitchens, to remodeled living rooms, we can help ensure your room gets the layered stylish look you want. At The Yardstick, we can help ensure through a free in-home estimate, you'll get the best custom drapes or curtains for your home.
Is Installing Custom Drapery Right for You?
Our custom drapes and curtains at The Yardstick are second to none! We pride ourselves on being able to use any fabric you wish that matches the decor and ultimate design you want. We will create the drapes catering to your exact measurements and specifications that will add character and give you the finished look.
Our custom draperies will leave you wondering why you didn't think of installing them sooner! They feature fabric choices with silk, linen, cotton, and/or other kinds of materials. We also offer black out curtains if you are looking to prevent light from entering your home at particular times of day. Our draperies can also be paired with other blinds or shades. Check out our gallery to get inspired by some of the different materials and installations we've done in the past for our happy clients.