Furniture made of wood, leather, upholstery and synthetic materials are vulnerable to damage or degradation with age.
Environmental factors cause tears, stains, breakages, shrinking, warping, rips, cuts or peeling off, with time.
Here are a few factors possibly affecting your furniture:
Light: Sunlight as well as artificial light causes bleaching and discoloration of furniture surfaces; these unwelcome changes become worse with time.
Humidity: Relative humidity causes wood and coatings to expand and shrink unequally in places, causing cracks, splits, distortions and fractures.
Insects: Ants, bees, wasps, termites, cockroaches and wood larvae repeatedly bore through wood, causing it to weaken and/or display tunneling holes.
Rodents: Infestation of rodents may not be a common problem in most homes; however, even an occasional nocturnal visit of these creatures is enough to cause major damage.
Mold: The interplay between humidity, temperature and airflow causes fungi to grow on the surfaces of furniture leading to stains or internal damage.
Some Tips on Proper Furniture Care & Upholstery
There are a number of things you can do for proper furniture care.
Ensuring that your furniture is exposed to enough cross ventilation, you can prevent fungal growth; regular hygiene and good habits can keep insects and rodents away. You should not keep exposed food on/near furniture, and should clean right away food spills.
Avoid as well placing hot or cold liquids or utensils on furniture without coasters or mats, as the surfaces and coatings may suffer damage.Nail polish removers, perfumes and alcoholic beverages can be harmful to furniture if spilt.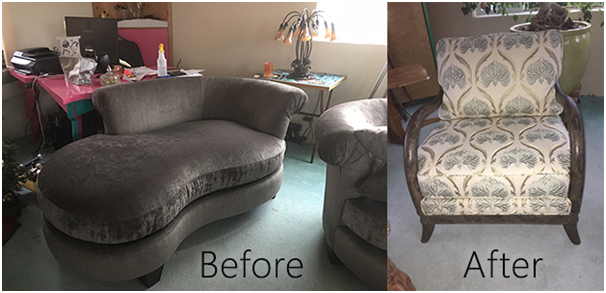 Why Reupholstering Furniture is a Good Idea
With time, the tips given above lose their significance and effect gradually, leading inevitably to damage of furniture. Instead of investing in brand new ones, reupholstering your furniture is a better and much cheaper option.
Cost: In general, reupholstering costs you less (around 60%) than buying new furniture, as long as there is no structural damage.
Familiarity: One of the things that make you feel at home is the comforting feel of old furniture. Reupholstering will help you preserve that comfort while overcoming minor issues with your furniture.
Quality issues: Older and larger furniture came with heavy quality frames, high-density foam, padding and sturdy springs, all of which were designed for a long life. In contrast, newer furniture has shorter life span and may require more repairs and costlier maintenance.
Updating to new trends: Reupholstering gives you an opportunity to retain the original item but experiment with the fabric, design or colors in keeping with current trends.
Tips on reupholstering your sofas
Experiment with cushions: Avoid two-tone upholstery and stick to one color. For brightness and contrast variations, use pillows and cushions.
Avoid stripes and large checks: These can look repulsive when the fabric is stretched to fit the sofa. If you do not like plains, use fabric with small and repetitive motifs.
Keep pets off the sofas: Claws and nails of pets, as well as humidity from their breath, can damage sofa fabrics.
Looking for Help in Reupholstering Your Furniture?
Reupholstering your sofa may not be a complex task, but it requires some finesse, experience and expertise. It is best to engage the services of a professional reupholstering company like ours that will do a good job on time, and ensure better value for your money.
Connect with us to discuss giving your furniture a new look.