What Curtains & Drapes Are Best?
Knowing the different types and styles of curtains and drapes will help you make your decision that much faster and you can be sure you are making the most informed decision possible. Here is our list of 20 types and styles of curtains and drapes to make any room pop and we are sure something will catch your eye!
Design Styles
Casual Drape Styles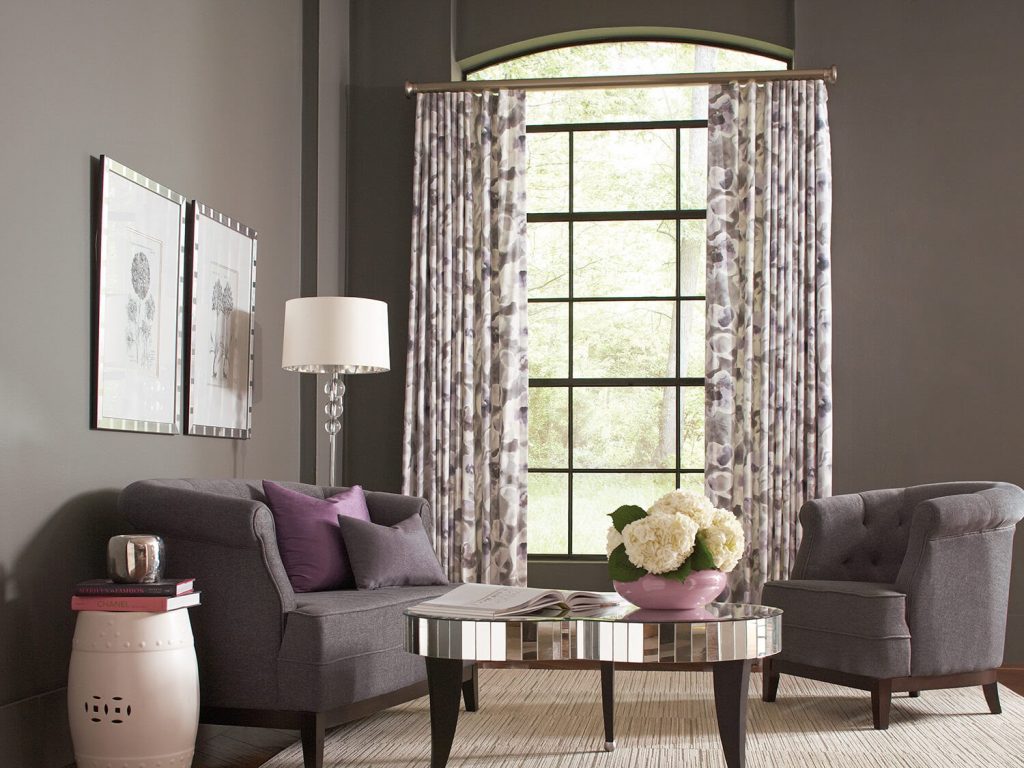 Casual drapes are fun colors and patterns with an informal and easy-going vibe. They are a good drape design style for bedrooms, bathrooms, and kitchens.
Classic Drape Styles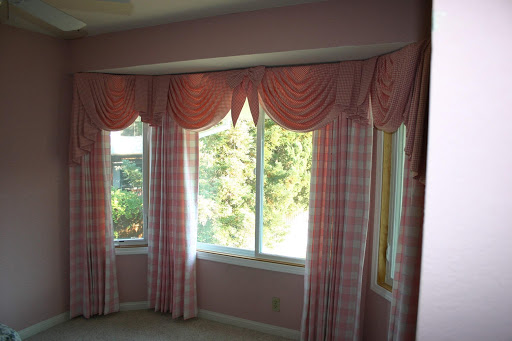 Classic drapes usually come paired with valances, scarves, and window treatment sets. They are some of the easiest drape styles to create because there are so many drape ideas out there for classic drapes and curtains.
Contemporary Drape Styles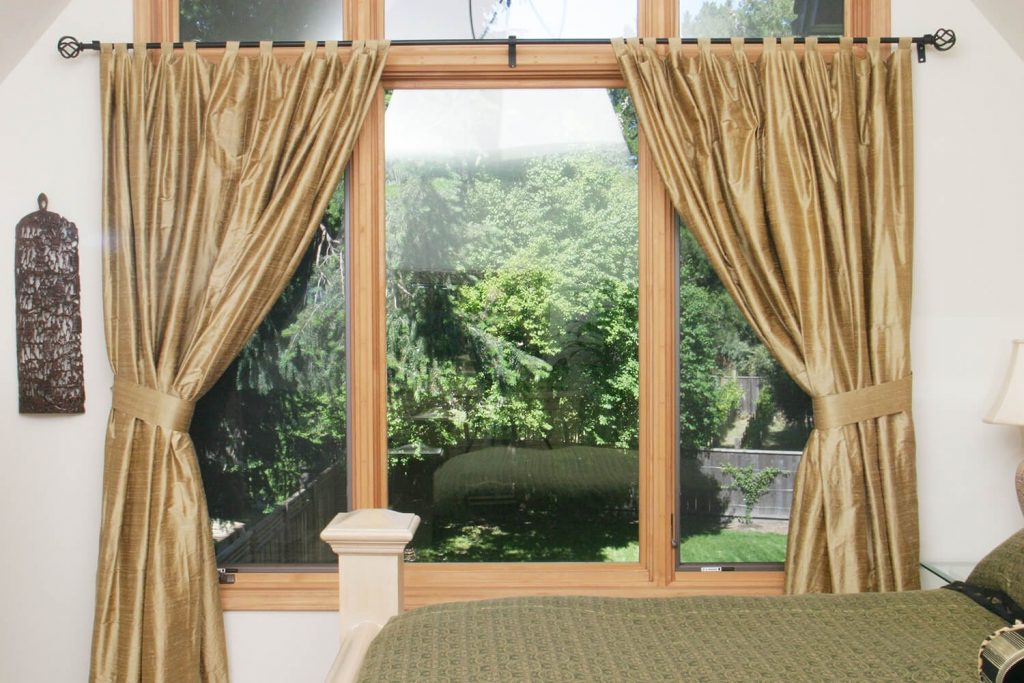 Contemporary drapes are mainly earth-toned or shades of gray inspired by nature to provide a fresh perspective on the classic style of drapes. They often contain unique textures to create a complex look and design that isn't over-the-top or pretentious.
Modern Drape Styles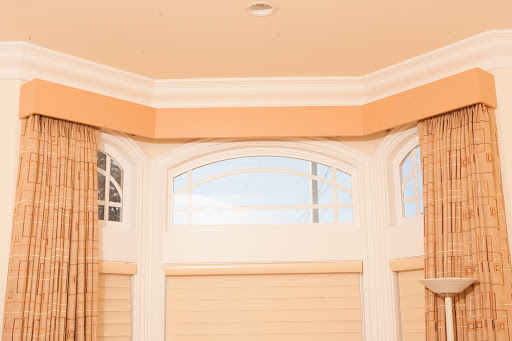 Modern drapes are minimalistic, often in bold solid colors with clean lines or abstract elements. This type of drape is good for making a statement or adding a pop of color to a room.
Styles of Curtains
Panel Pair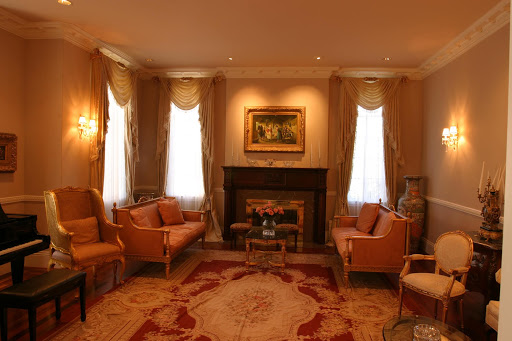 A panel pair drape is when two separate drape panels are used for one window. Being one of the most popular drape styles, they fit with any room and any drape style to create a symmetrical look for your windows.
Window Treatment Set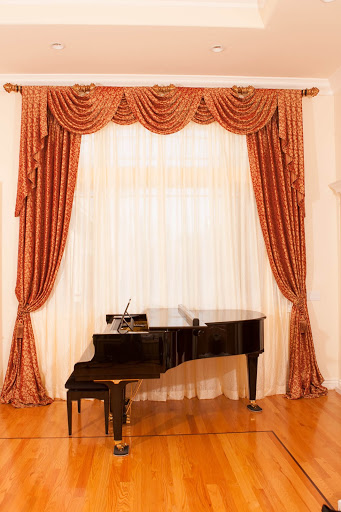 A window treatment set includes everything to dress the entire window with a matching style of drapes. They often come with a panel pair, a valance, and, sometimes, tiebacks and curtain rods as accessories.
Valance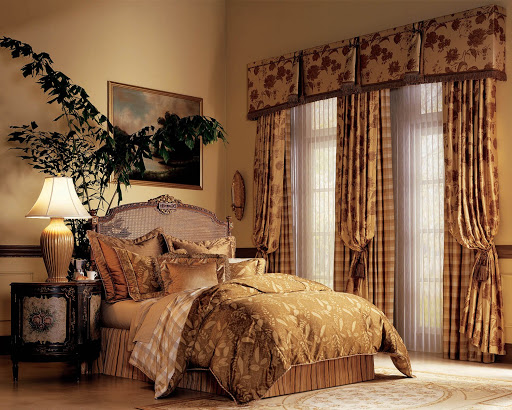 A valance is a short drape covering the top of the window and overlapping with the rest of your drapes if you have any. However, there are many drape ideas out there that don't include any other drapes besides the valance to create a simple decorative flair for a room.
Window Scarf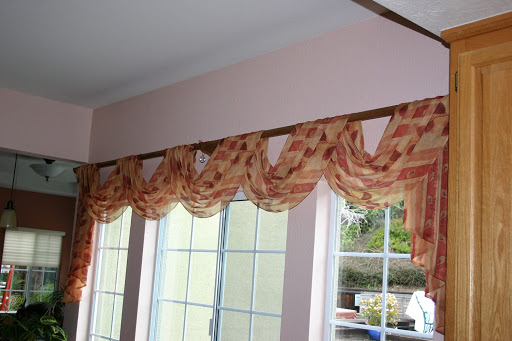 A window scarf is a long, thin piece of fabric that hangs around the curtain rod at the top of the windows. This drape idea creates a sense of drama and romance for the room or window treatment.
Length
Sill-Length Drape Types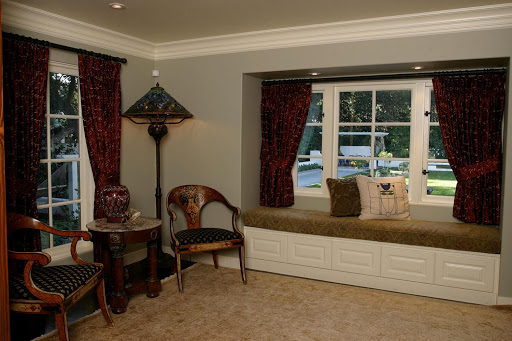 If you have a window you often open, then a sill-length drape idea is a perfect fit. To create a sill-length curtain you will need to hand the drape so it sits just at or above the window sill.
Apron-Length Drape Types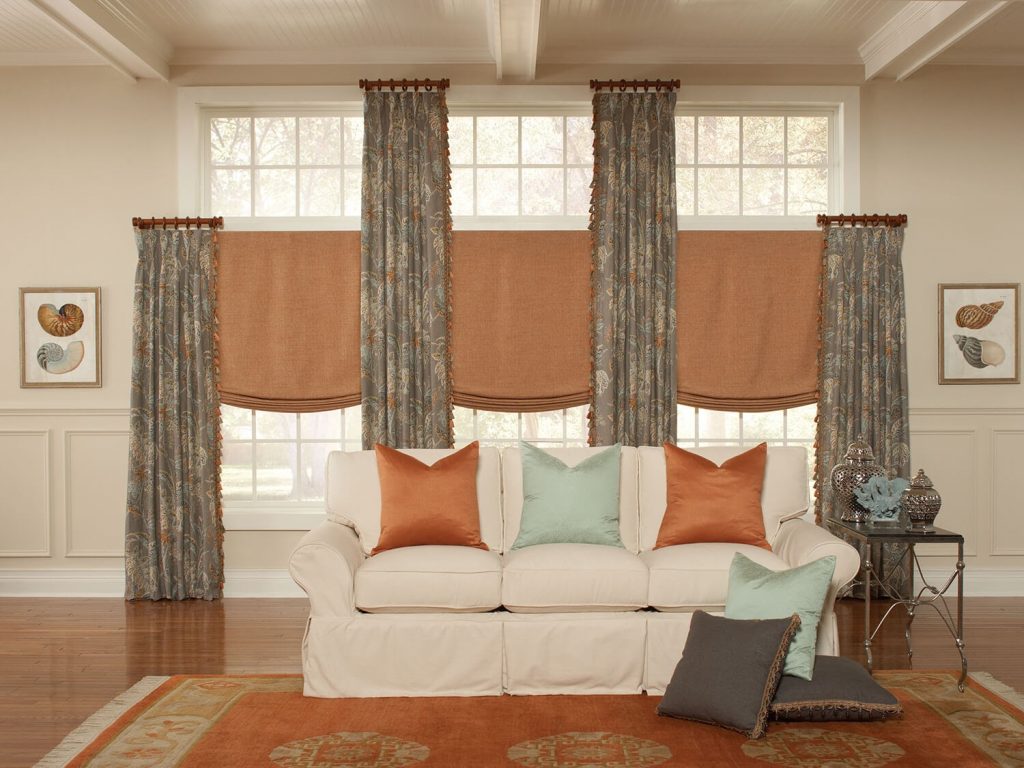 If you want to make your windows look longer and larger than they are, then apron-length drapes will be the perfect drape idea for you. Usually, these types of drapes are used for rooms with small windows like kitchens or bathrooms. You fix the curtain rod a little above the window and then let the drape extend several inches below the window sill to create an apron-length drape.
Floor-Length Drape Types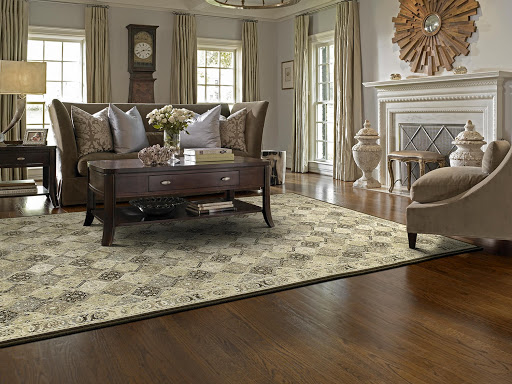 If you want to accent your windows or make them appear much larger, then a floor-length drape is the best way to go. A good floor-length drape will come all the way to the floor, stopping just an inch short of touching the ground.
Puddle-Length Drape Types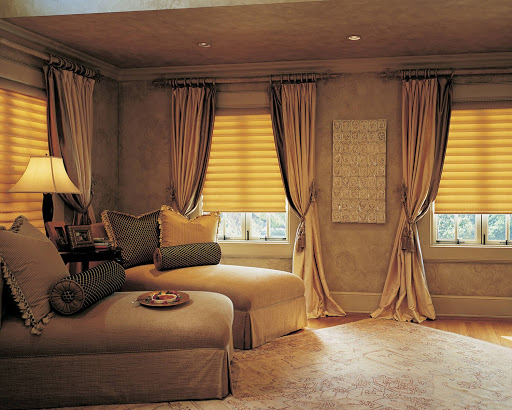 A puddle-length drape is simply an extra-long floor-length drape idea that creates dramatic or romantic flairs for the room. Rather than breaking just before the ground, these types of drapes spill to the floor and puddle an extra few inches at the bottom of the window.
Opacity
Sheer Style Drapes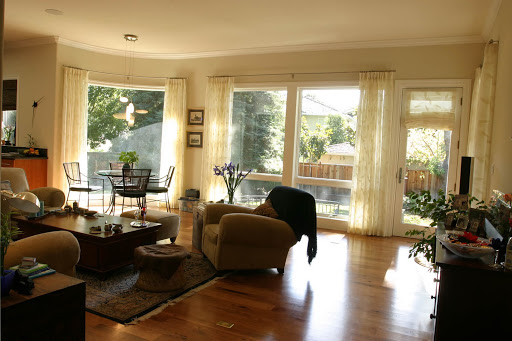 Sheer drapes are a type of curtain with material that is almost completely transparent. They are typically made of lace, cotton, or linen to let in the most natural light possible to a room while maintaining some level of privacy. This style of drape is perfect for living rooms and dining rooms, where natural light will be most appreciated.
Semi-Opaque Style Drapes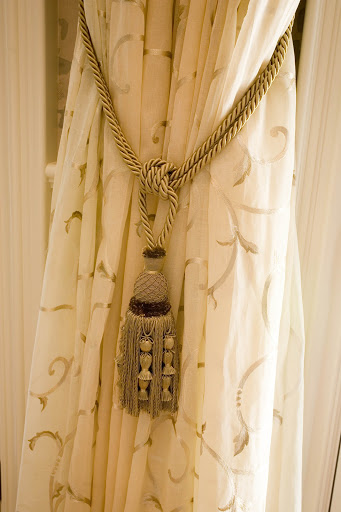 A semi-opaque drape is a good compromise for natural light and privacy. These are the most popular opacity levels for all types of curtains and drape styles.
Blackout Style Drapes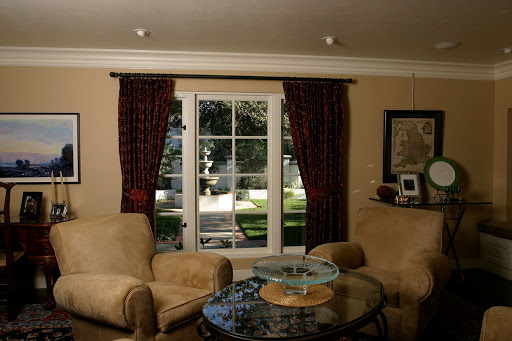 A good blackout curtain will allow the least amount of light possible to enter a room while closed. This style of curtain is most popular for bedrooms, dens, and home theaters. They are typically made with popular materials like velvet and synthetic blends.
Attachment Types
Ripple Fold Drapery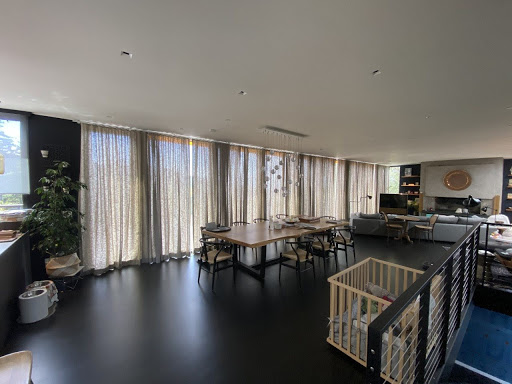 Ripple Fold drapes are sleek and modern while remaining fully functional. This attachment type of drape is best for curtains that will be opened and closed frequently and pair well with modern style drapes of floor length.
Tailored Pleat Drapery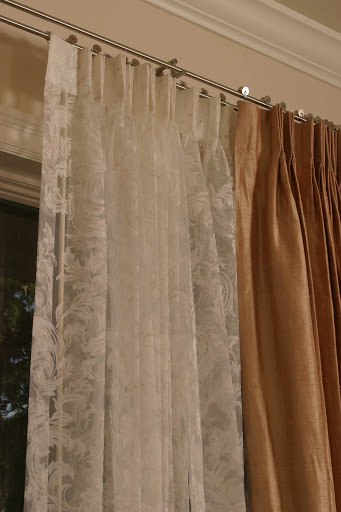 Tailored Pleat drapes are a more sophisticated and dramatic best fit for classic or contemporary styles of drapes for any length of curtain. Thinner materials with sheer or semi-opaqueness make for the most natural fit and are good for curtains that won't be opened or closed all too often.
Pinch Pleat Drapery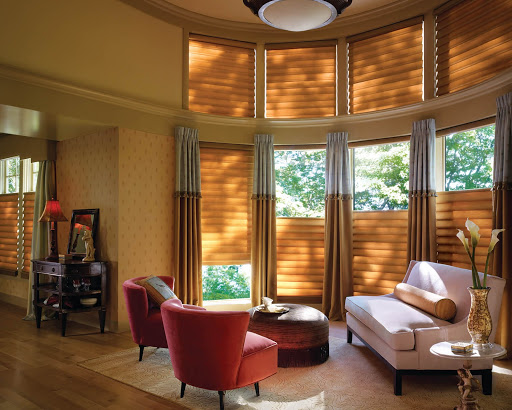 Pinch Pleat drapes are by far the most common type or style of curtain for any room. The classic design and shape of the curtain attachment makes it a great fit for nearly any classic, contemporary, or modern drape while pairing well with any other factor to make your drape idea become a reality.
Tab Top/Hidden Tab Drapery
A Tab Top or Hidden Tab drape are some of the most user-friendly and easy-to-use curtains available. This makes them the perfect choice for curtains that may get lots of use, especially by children, such as at glass doors or bedroom windows. They are a natural fit for casual styles of drapes but can fit a contemporary style of curtain, too.
Roman Shades Drapery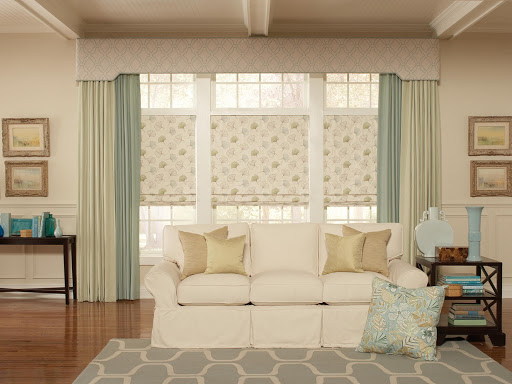 Roman Shade drapes are a beautiful choice for rooms with large windows to create a very modern style of curtain for any room. They give lots of control for the amount of light coming into the room, especially when coupled with different opacity levels and drape materials!
21 Drape Ideas
You need some drape ideas to go along with your types of drapes and styles of drapes. Here's 21 drape ideas to get your inspired for your home. As you see, drapes can really make a room pop with added texture and warmth! Custom window treatments are a great place to start creating and dreaming about what a space could be. And custom draperies are a great way to bring a room together.
We hope these 21 drape ideas will inspire you and give you guidance as you start your journey designing your rooms and windows.
1. Bay Window Curtains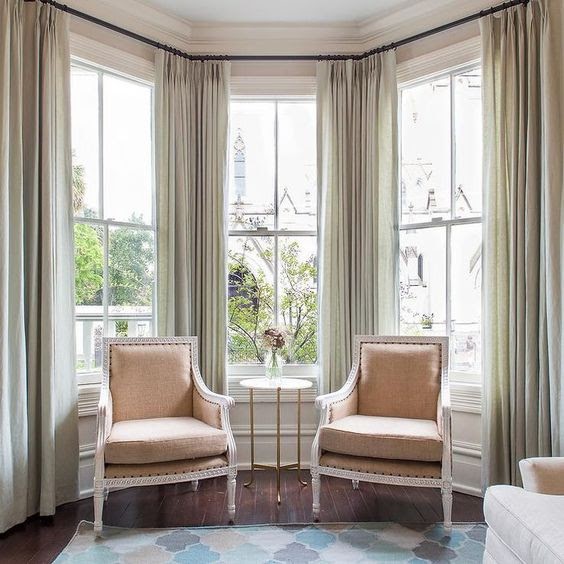 Bay windows are a great source of natural light and can add a lot of depth to a room, but it can be difficult to come up with drape ideas for them. Measuring out the dimensions of your bay window and fitting them with sliding curtains are a great way to add drama and romance to your bay window while providing window coverings when you need extra privacy or to diffuse light.
2. Blanket Stitch Curtain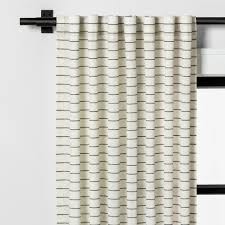 A blanket stitch is a simple-yet-profound way to make your curtains pop, and one you may be able to put into practice yourself if you are handy with needle and thread. They offer texture and depth to a solid neutral-toned style of drape while emphasizing a cozy and homey feel for your room.
3. Blending In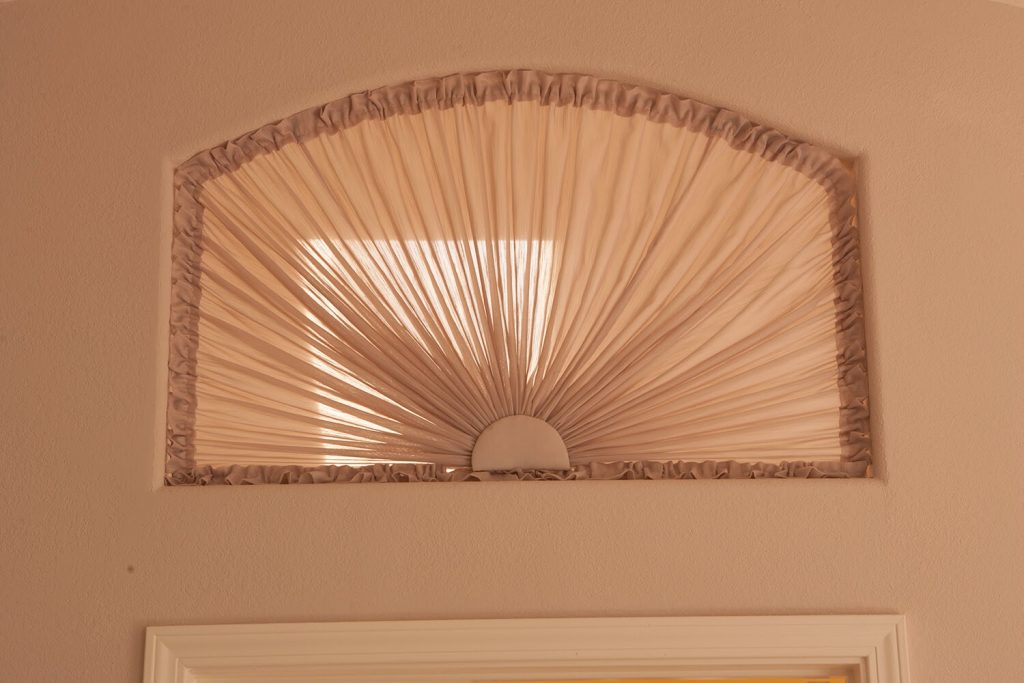 Blending in drapes add a unique touch to any room. Sometimes subtlety is the best way to pull a room together. Blending curtains with the wall color by purchasing drapes that are a few tones darker than the surrounding walls will go a long way to make the entire room have a central theme and design.
4. Color Pop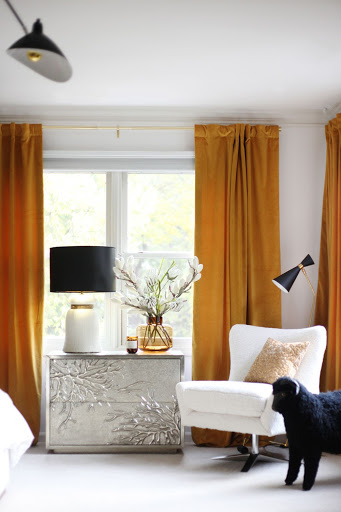 On the other hand, making a bold statement can be another way to make your room seem like an interior design organized the whole idea. Picking drapes with a bright, bold color that accents the walls and the rest of the decor in the room can take your windows from boring to the talk of the block.
5. Halfway Drapes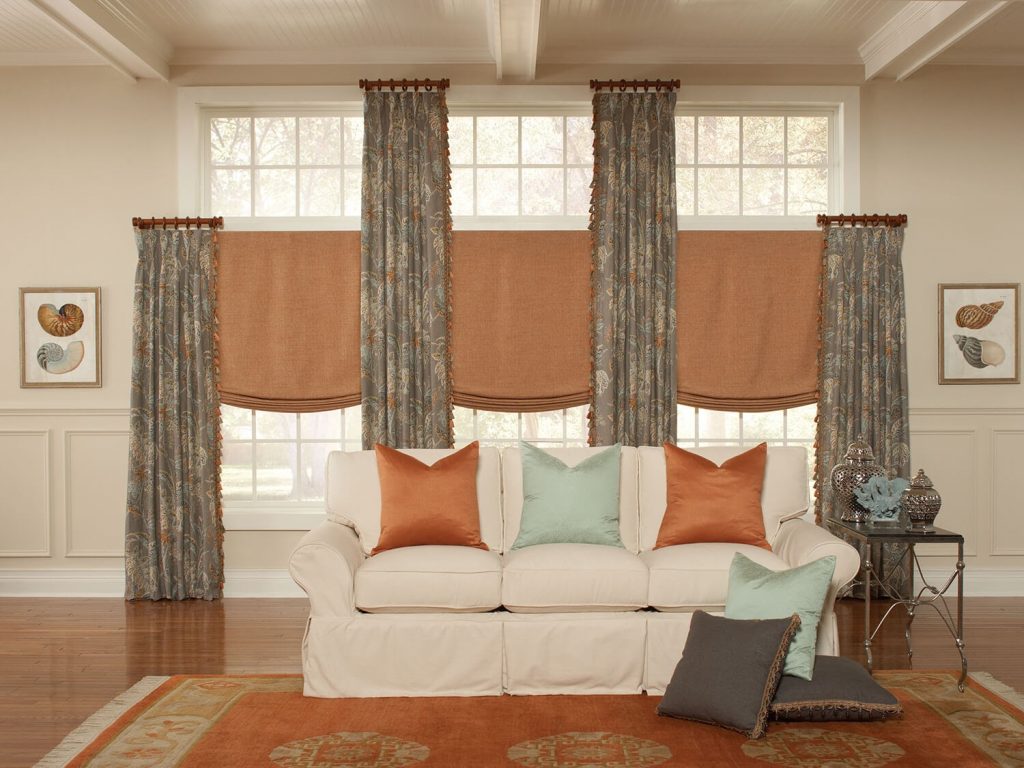 A popular up-and-coming style is the halfway drape. Rather than setting up curtains for the entirety of the window you set your drapes to go from the bottom half of the window panes down, allowing for plenty of natural light and sightlines for the top half of the window and providing some privacy for the bottom half. This is a great style to consider for 2nd story windows, too!
6. Hold-backs vs Tie-backs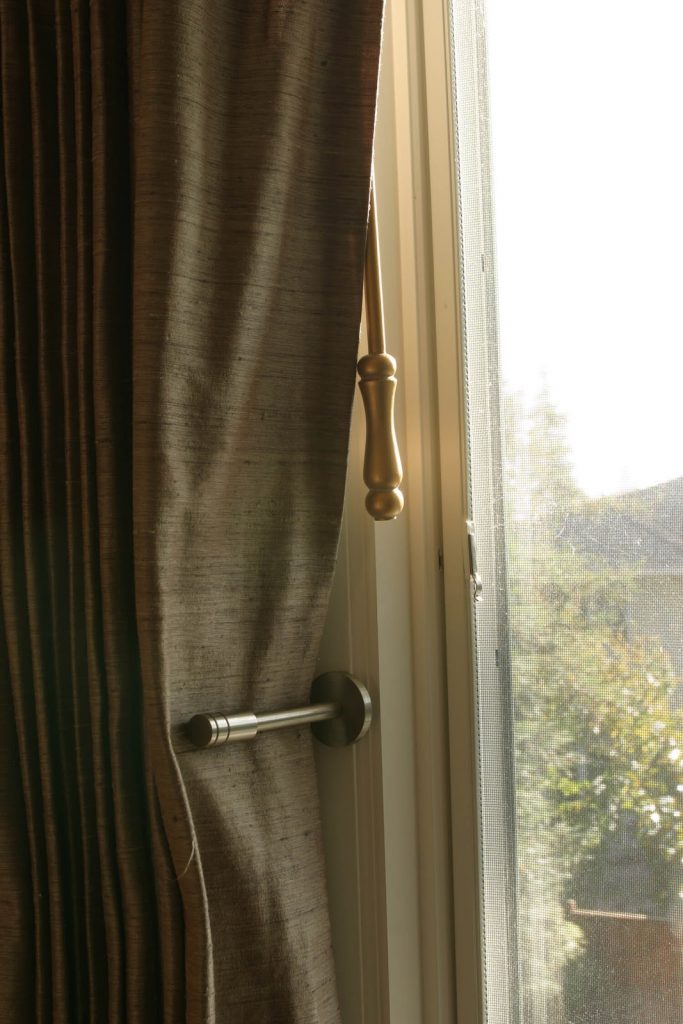 Similar to tie-backs, a hold-back is a bar sticking out from the wall which you can gather the drape behind when you want the curtains drawn back. Hold-backs are more permanent fixtures and can make more of a statement than tie-backs, especially for a modern or contemporary design if you carefully select the color and materials they are made from.
7. Internal Curtains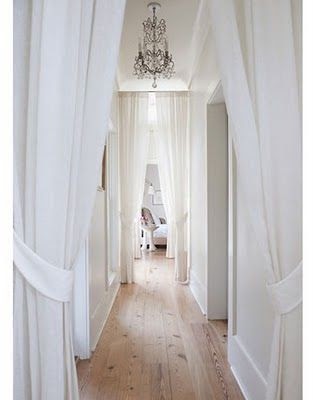 A drape idea you may not have thought about, but one that you definitely need to consider, is setting up internal curtains for entryways into hallways and rooms. Installing internal curtains sets a more romantic vibe, but is becoming more popular in contemporary and modern designs, too.
8. Layering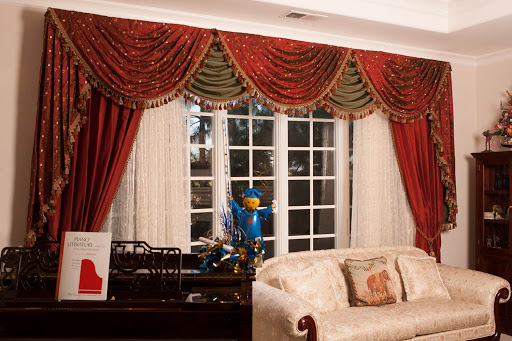 Layering is an easy way to add lots of character to any room by combining multiple types and styles of drapes. A popular example of layering would be to install Roman Shades on the windows themselves combined with a panel pair of accenting drapes with hold-backs or tie-backs on either side of the window. This drape idea is guaranteed to be way up on the list of top design styles in 2021.
9. Pattern Punch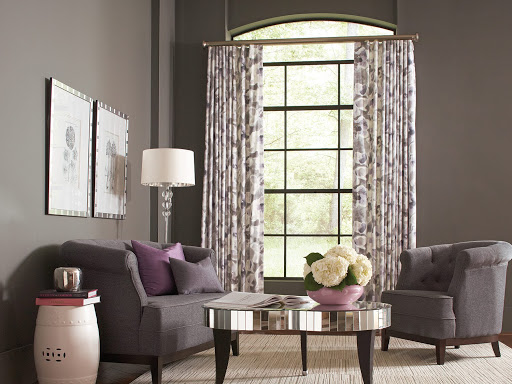 Another great way to make a room pop is with a pattern punch. If your room has subtle themes and colors, then adding a burst of patterned drapes adds that extra splash of personality and can set the atmosphere for the space of your room.
10. Patterned Shades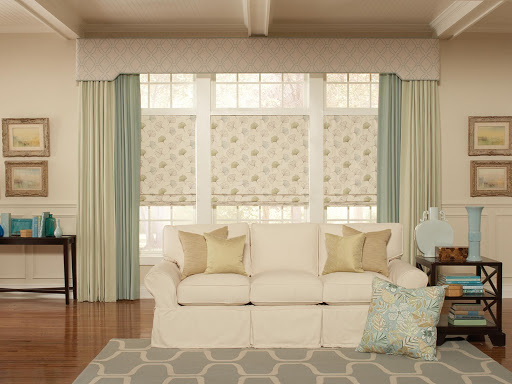 This idea is slightly different from the Pattern Punch above, but only because it focuses less on the drapes and more on the shades themselves having that extra dash of pattern inspiration. Using an intensely patterned Roman shade can set the room apart even more and make a statement for your room.
11. Pelmet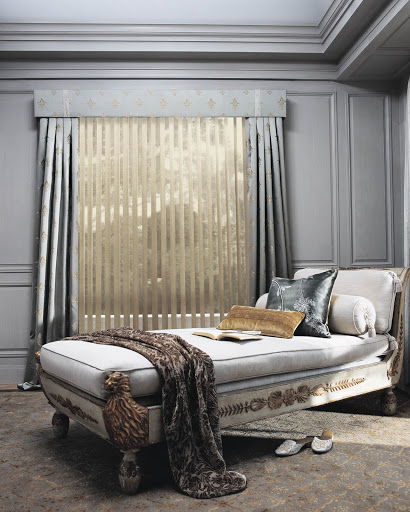 Not seen too often anymore, the Pelmet is making a comeback in 2021. Pelmets are an upholstered board, usually matching the drapes, that goes across the top of the window and covers the curtain rod. A pelmet does a great job of making your windows seem larger, your room seem grander, and makes the window a focal point for the rest of the space.
12. Contrast Pelmet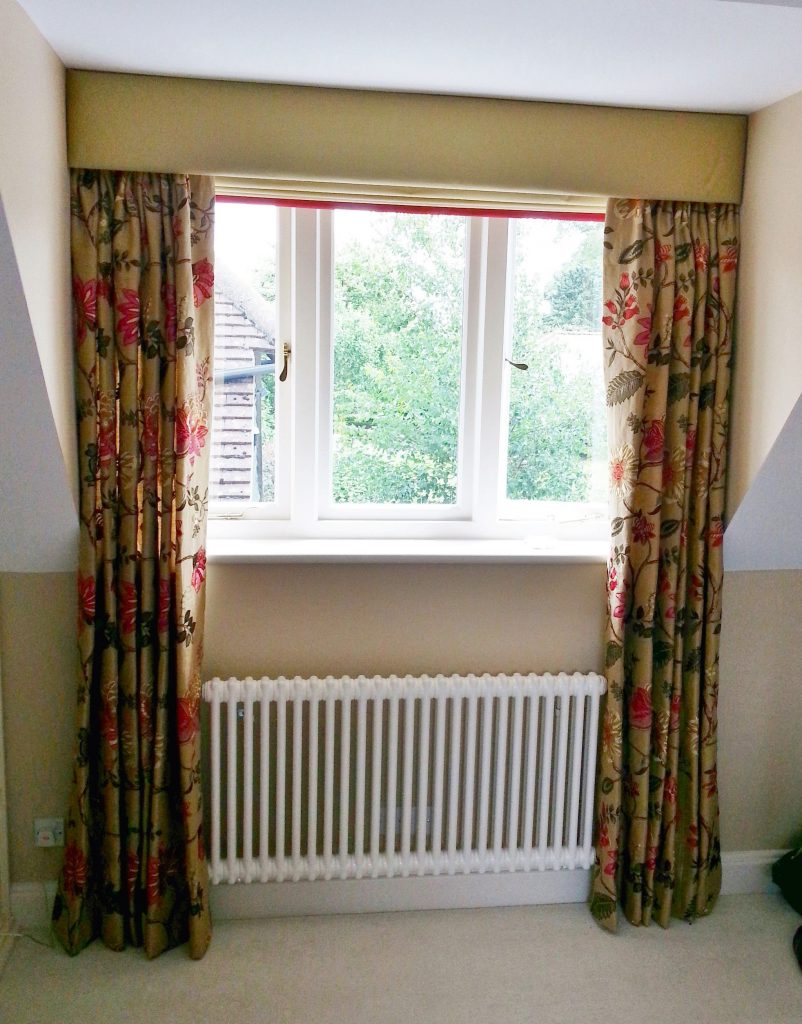 Now, usually, a pelmet would match the drapes. However, a modern twist on the pelmet is to have the pelmet be a contrasting color, design, or pattern to the drapes to create a real "wow" statement for the window treatment while making sure to bring the design of the draperies together.
13. Pinch Pleat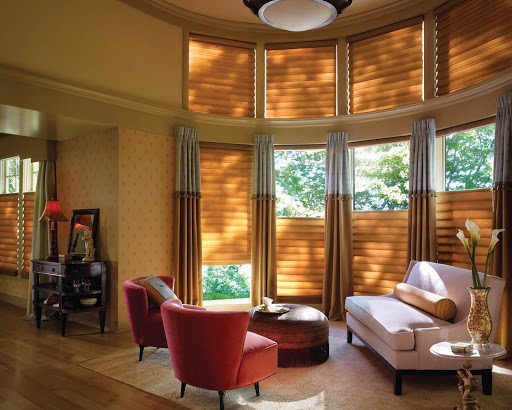 Pinch Pleat drapes are by far the most common type or style of curtain for any room, and for good reasons: they are a timeless classic and they are versatile. A well-made pinch pleat drape will always make for a good, clean statement piece in just about any room.
14. Tailored Pleat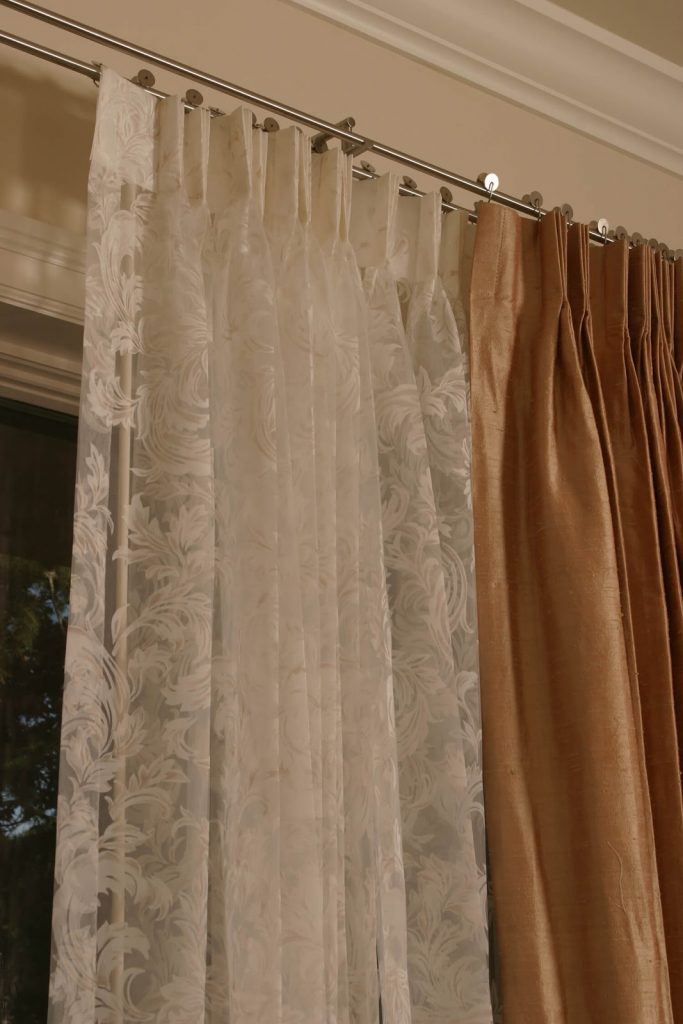 Similar to the pinch pleat, tailored pleat drapes are timeless and versatile. The main difference, though, is the tailored pleat drape is best matched with a more contemporary or modern design style and often works best with thinner drape materials.
15. Puddle-Length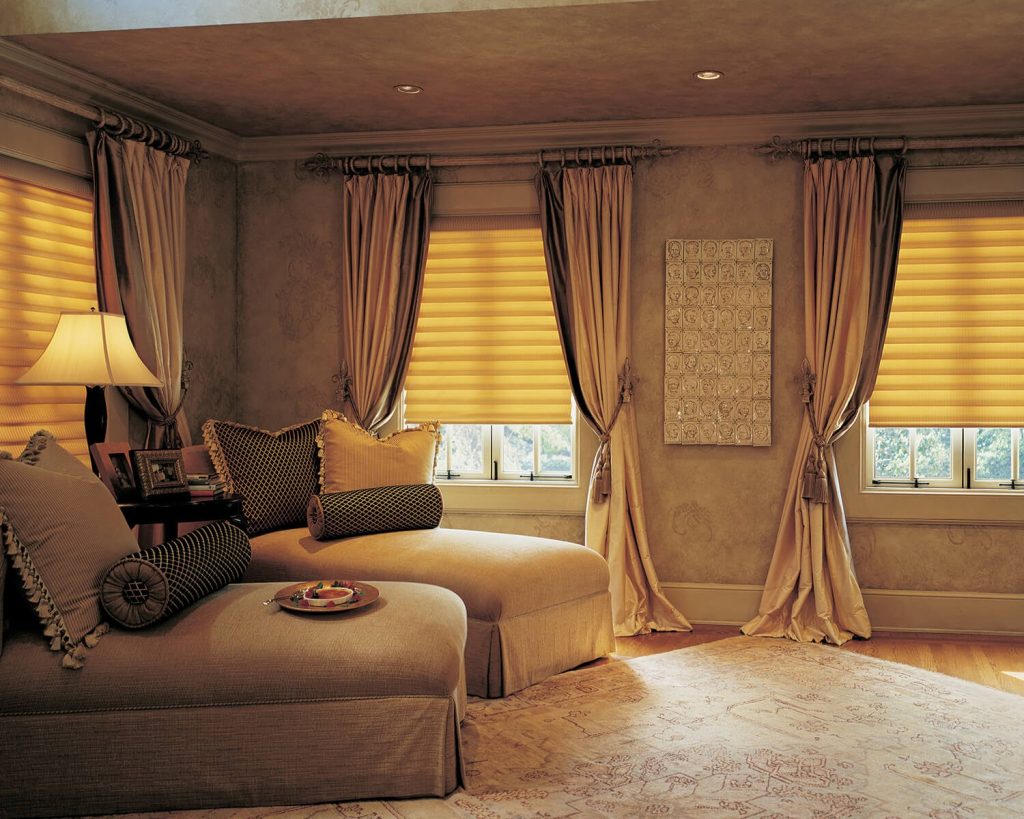 You may recognize puddle-length drapes from soap operas, and that is because they add so much romance, drama, and depth to a room. A puddle length drape will go all the way to the floor and then form a puddle of fabric, and puddle length drapes are coming back in a big way in 2021 and are being matched with all sorts of types and style of drapes!
16. Pull Aside Curtains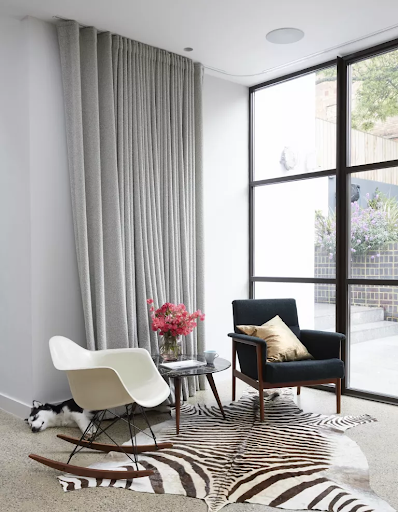 Pull aside curtains are for a special setup because they require you to have windows or glass doors that go all the way to the adjoining wall. The curtain track is set to go around the corner and rest on the connecting wall, taking your wall-to-wall windows or glass doors from convenient to classy.
17. Roman Shades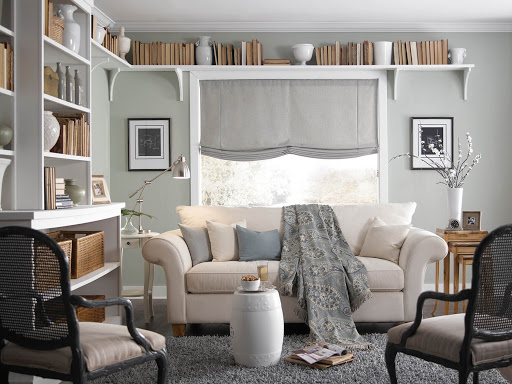 We have already mentioned these several times, but they deserve a spot on our list all of their own because, when it comes to drape ideas in 2021, Roman shades are becoming more and more popular by the day. A Roman shade is a beautiful choice for rooms with large windows to create an updated modern style of curtain for any room, giving lots of control for the amount of light coming into the room!
18. Sheer Drapes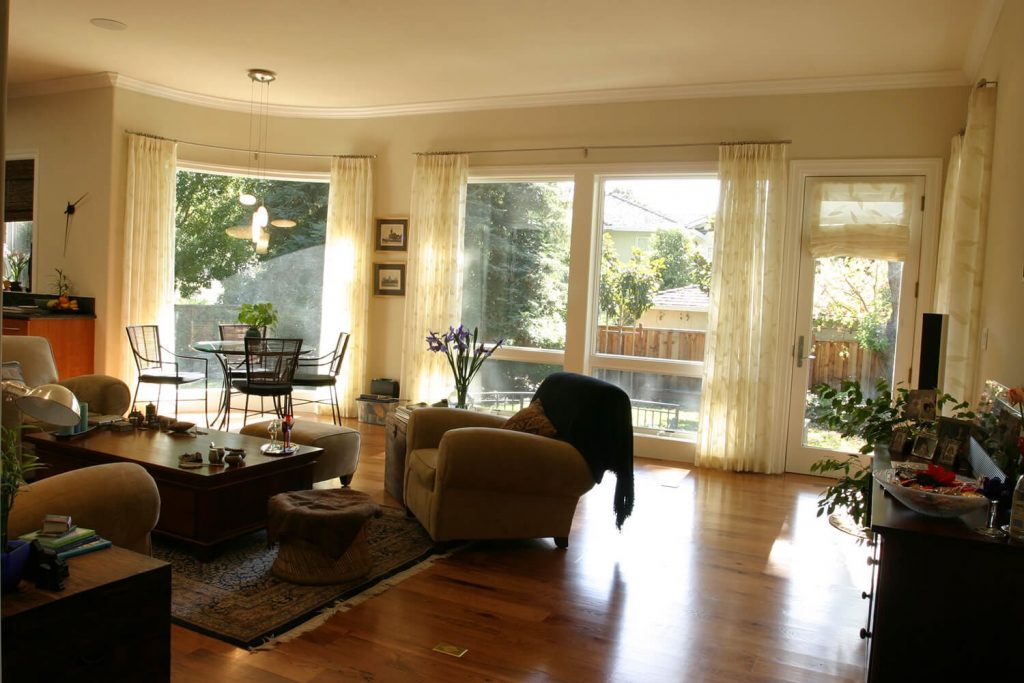 To create an extra bit of drama or to make your window seem a little larger, using sheer drapes are your best bet. Sheer drapes are typically made of lighter, thinner materials to allow the maximum amount of natural light into a room with a small amount of privacy, but they are great for layering and creating window treatments that look as grand and glorious as you feel.
19. Silk Curtains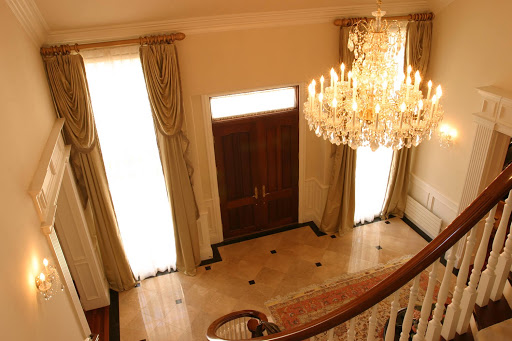 It's no secret that silk is considered luxurious and expensive, but drapes made of silk are trending upwards as we move into 2021 because they also add a touch of lightness and brevity to a room with the natural sheen of light they create when sunlight hits them in just the right way. Using a silk drape in any of these top drape ideas will go a long way to create a more lavish and fun vibe for your room.
20. Statement Tie-Backs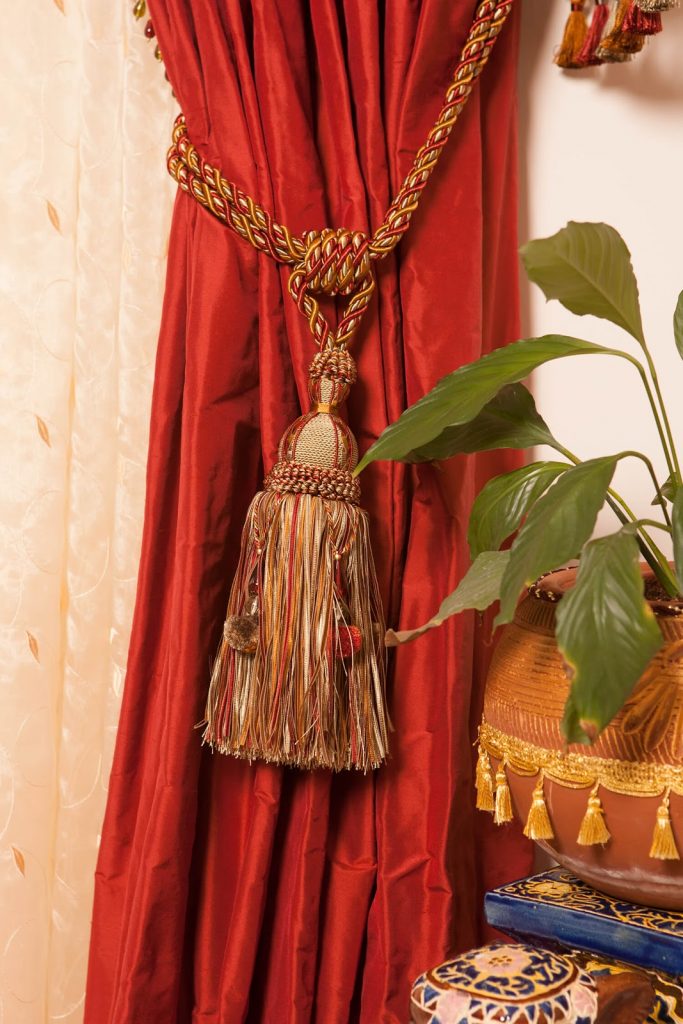 While hold-backs are gaining popularity in 2021, there is no substitute for using a tie-back that makes a statement with your curtains. Creating tie-backs with unique materials, interesting designs, and curious styles can make your drapes and windows stand out while also bringing the entire theme of a room together.
21. Wall Curtains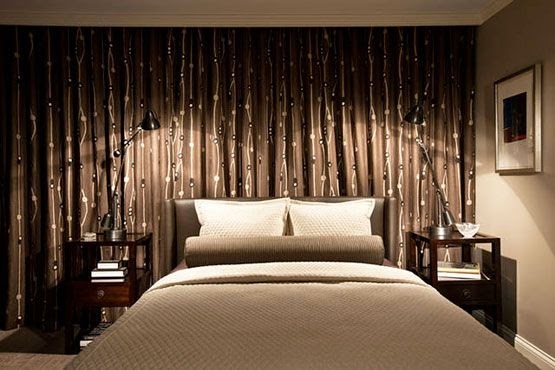 If you have multiple windows on a single wall it is tempting to use separate drapes or panel pairs for each window, but to take your room up a notch you can extend the curtain rod or track across the entire wall of the room and have matching drapes all the way across covering up the walls in between the windows, too. Wall curtains are a type of layering that makes your wall and windows look significantly larger and can create a dramatic backdrop to a living room or bedroom that will not be forgotten or overlooked.
Looking to Install Some of Your Own Drape Ideas?
The Yardstick can help! Let 2021 be the year for a new look for your home by redoing your curtains and drapes.
The Yardstick is a full-service custom window treatment company specializing in blinds, shades, interior shutters, motorized window treatments, and more.
Our full-service area includes Santa Clara County, Alameda County, Contra Costa, Monterey County, San Mateo County, and Marin County in the greater San Francisco Bay Area. Our cities of service include San Jose, San Francisco, Oakland, Mountain View, Palo Alto, and more. If you're outside of our service area feel free to contact us and we'll see if we can accommodate you.
When it comes to making the right choice for curtains and drapes, there are so many types and styles to choose from. We can help you get the best fit and style for any room. Having the right company like ours alongside you while you carefully choose how to redecorate or redesign your home is critical to getting everything just right. We have all the drape ideas in our draperies gallery you could ever need or want to match perfectly with your room.